Aangezien ik iedere dag wel weer mooie items tegenkom die ik wel zou willen hebben(mijn vriend noemt mij niet voor niets rupsje nooit genoeg) lijkt het me wel leuk om regelmatig een wishlist op te stellen. En dat zullen dan niet alleen items zijn die ik ook ga aanschaffen maar gewoon mooie setjes of losse artikelen. Maar wel van die dingen die je zó ontzettend mooi vind! Of juist mooie designerpieces, het is dan juist zo leuk om een vergelijkbaar item op te zoeken dat dan betaalbaarder is. Waar ik in ieder geval naar op zoek wil is tweed! Het begint al wat meer richting de wintercollectie te komen en dan kom je weer meer breisels tegen en tweed. Een mooie lange, wijde tweedrok….. benieuwd of ik 'm kan vinden. Deze tas kwam ik tegen bij River Island en ik viel voor de kleuren en het strakke design, en toen bedacht ik me dat een grijze outfit met een touch of pink ook erg mooi is.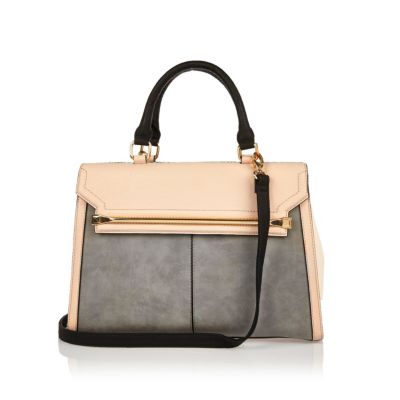 Dus even op zoek naar een gebreide jurk bijvoorbeeld?
Toevallig ook bij River Island. En met deze geweldige oorbellen van Zara erbij hoef je geen andere accesoires te dragen
.
Grijze stoere enkellaarsjes eronder
en je bent weer helemaal stylish! Deze heb ik hier gezien.